Hi Stampers,
This week on CASEing the catty we are focusing on Petals and Paisley on pages 46-49 of the Holiday Catalogue which is current until the 3 January 2017.
I chose the card at the bottom left hand side of this picture to CASE. I just love Paisleys it is one of my all time favourite patterns be it fabric, paper, stamps I just can't resist them! So when I first saw this stamp set I knew I had to have it. Having said that this is the first time I have had a chance to use it and I know I will be using it a lot more now.
With my CASE I have used different colours as I wanted to use the Copper Foil Paper and I feel Greens, Turquoise colours seem to look so much nicer with it. I also decided to make a larger card to show off the paisley pattern better, it is 5 x 7 inches.
For my second project I decided to make it look Christmassy!
I went quite crazy with the 'copper' look! I have inked the paisley stamp with Versamark and then sprinkled on copper embossing powder, it really looks so effective. I then sponged the background with Emerald Envy, Bermuda Bay and Pool Party. I cut out a Christmas Tree shape using the Copper Foil paper and then embossed it with the Softly Falling Embossing Folder. I dyed some Seam Binding with Emerald Envy, Bermuda Bay and Pool Party re-inkers.
Now it is time to hop along to Julia's blog and see what amazing project she has in store for us. Or you can hop along back to Rebecca's blog and have another peek!
If we have inspired you at all please add your project using the link below, we would love you to join us.
I have a list of supplies below, but if you would like any information on any of the products I have used please feel free to contact me, I am only to happy to share my passion.
Happy Stamping!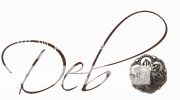 Supplies:
Pin It now!