Welcome to another CASEing the catty!
This weeks CASE is concentrating on the Holiday Tags on page 4 of the Holiday Catalogue as shown in the picture above.
Now we all need tags for Christmas so this is a great way for me to get a bit of a head start on them, I think I may even use these for a upcoming Christmas Stamp a Stack that I am having in November.
My first lot of tags are quite similar to the above picture with of course a few minor changes lol!
Now for my next lot of CASEing I have gone back to my favourite look of Kraft Cardstock and Black Ink. These are so quick and easy to make and I just love the look of these colours together. The only similarity of these to the picture in the Catalogue is that they are tags! But that is what CASEing is all about getting inspiration from a project to either CASE it exactly or make something totally different.
Front and Back views of Tags
Well I hope I have been able to inspire you in some small way. Now it is off to see what Kathryn Mangelsdorf has made for her CASEing this week, it is sure to be inspiring!
Now it is your turn to join in this weeks challenge, we love to see what other Stampers' come up with. Just click on the link below.
Have a great week of crafting!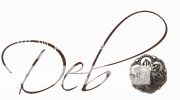 Supplies:
Pin It now!