Hi Stampers,
Its Sunday again and here I am with another
Caseing the Catty Challenge
! This week we are caseing 'EVERYDAY OCCASIONS' on pages 66-91. There were just too many ideas to choose from but I finally decided on the card on Page 82 using 'Gift from the Garden Stamp Set'. Here is a picture of the original in the catalogue.
As you can see I have used a totally different colour scheme but have basically kept to the layout of the original card in the catalogue. I really love the Kraft and Black Ink look, I have seen quite a few different projects around using these colours. For the inside of my card I have added a envelope to put a seed packet in, or you could use it to put in a Gift Card from a garden nursery (that's what I would like in it, if it was for me lol!).
I also decided to make a Garden Journal using the same theme, I have an exercise book that I glue in the pictures of the plants I buy for my garden, I usually write down when I planted them and where in the garden I planted them, as I live on 1 acre of land and sometimes forget where I put what!. My book is looking pretty sad so I thought I would make myself a new one! Can't wait to start filling it up, looks like a trip to the nursery!
The next stop is the talented
Monique Fielder
. I am sure you will want to hop along because there are many wonderful ideas to be had!
Happy Stamping!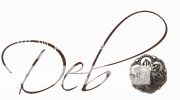 Supply List:
Pin It now!