Hello Stampers!
I was fortunate enough to be asked to do a road test on Grumbacher Miskit Liquid Frisket by
Aunty Vera Scrap and Craft
I had wanted to try this product for a long time as I had seen it on Youtube, and thought it would be great for the Bird Crazy Stamp Set by Tim Holtz. Here is a step by step process.
Firstly I stamped, on Whisper White Cardstock, then filled in the eyes and beaks of the birds using a fine paint brush and the Liquid Frisket. Note: you must give the Liquid Frisket a good shake before using it, it will end up with lots of little bubbles in it, which makes it a little harder to paint onto your surface but I think the result speaks for itself.
I had so much fun doing this, and so many birds left that I decided to make a journal as well.
I hope you enjoyed this little road test, and thank you Aunty Vera for asking me to do it.
Here is some more information on this product:
Grumbacher Miskit Liquid Frisket is a fluorescent orange coloured frisket, for use on hard-sized watercolour papers, photos, and other media, to mask areas that are meant to be painted once the dried frisket is removed.
It washes out of pens and brushes with soap and water, and comes in a 1.2 oz (35 ml) glass jar. Make sure you clean your brush straight after using it, don't leave your brushes to dry out.
This product contains latex.
Note:
To assure longevity of this product, Grumbacher recommends storing the jar upside-down
, with the cap securely closed.
Happy Stamping!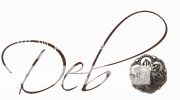 Pin It now!