Hi Stampers,
Thought I would have a play with some of my new stamp sets. This one is called 'Watercolor Wings' as is available now in the new Stampin' Up! Catalogue. It is such a pretty butterfly and you can get all sorts of different finishes depending on the colors you use. I prefer a softer look and I think it looks pretty much ok. I have left some instructions at the bottom if you want to have a go yourself.
Card Base 5 3/4" x 4 1/8"
DSP Layer 5 1/2 by 3 7/8" (I sponged this using Mint Macaroon)
Tag 2 x 3"
Banner 1 1/2" x 5 1/2"
I coloured the ribbon by stamping Smoky Slate Ink Pad over my craft sheet, spritzing with water they rubbed ribbon into it, scunched and squeezed until I was happy with the coverage, just remember to wet the ribbon first.
Butterflies: 1st layer, stamped off with Pool Party, 2nd Layer Mint Macaroon, 3rd Layer Pool Party.
Supplies:
Happy Stamping!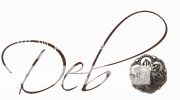 Pin It now!